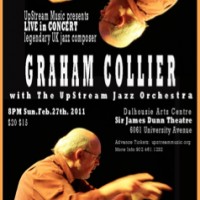 By Stephen Pedersen, from the Halifax Chronicle Herald
How do Halifax's jazz musicians do it? Opportunities are few. Occasions to rise above ordinary excellence even fewer. Yet 14 local players drawn together as the Upstream Jazz Orchestra came up Sunday night with one of the hottest jazz bands ever to hit the Dunn stage.
Big bands offer the most exciting possibilities in the business for firing up the blood. And British jazz composer, band leader and writer Graham Collier made more of those possibilities than any of us in the packed auditorium thought possible.
It was a long concert at a little over two-and-a-half hours including a short intermission. Yet there were only two big pieces on the program and three shorter ones. Actually fewer. The extraordinarily tasty blues, Under the Pier, with its wide intervals and tonality-twisting chord extensions was played twice, differently, at the opening and end of the show.
Together with a new version of an early Collier composition called The Alternate Aberdeen Angus, Under the Pier bracketed two, nearly hour-long, suites called The Blue Suite modeled after Miles Davis (Kind of Sketchy, Kind of So What, Kind of Freddie, Kind of Green and All Kinds) on the first half, and Luminosity based on five paintings by abstract expressionist painter Hans Hofmann on the second.
The rich fulness of Collier's harmonies, the imagination and inventiveness of his orchestral colour, and the marvelous fluency of the improvisations played to an intensely listening audience over an unfailingly deep groove.
In both suites Collier mixed the movements together, giving himself a considerable role in a flowing, ever-changing composition.
The groove sustained a feeling of motion even when the decks were cleared for a soloist like Lukas Pearse to open up his big bass sound right down to the sub-basement of his extended low register (from an E in the lowest octave of the piano a further four notes down to a low C).
The sound down there is almost not heard as a pitch. But no matter considering that Pearse was scrubbing his bow, across, down and in a circular polishing motion, enveloping the stage in grinding overtones which felt like they could polish the grit off your back teeth, and sounded as huge as the rest of the band put together..
Various other players climbed aboard for a while including Tim Crofts with some extremely light and transparent textures on piano and Chris Mitchell playing a fat, grooving sound on the alto flute.
The full band returned sometimes like a blast of artillery, and at others by way of accumulating layers of quiet, often sweet tone colour and melodic energy.
There were too many fine soloists to mention, but Danny Martin's trombone solo in The Blue Suite, a wickedly energetic excursion played with undiminished inventiveness, told us much about Collier's ability to inspire the musicians.
These, besides Mitchell, Pearse and Martin, also included Tim Crofts on piano, Jeff Torbert on acoustic/electric guitar, Geordie Haley on hard-body (a sure fire source of unexpected yet right-on improvising), Danny Parker on bass and Tom Roach on drums.
The horn line included Rick Waychesko and Tim Elson on trumpet/flugelhorn, Paul Cram on tenor sax/clarinet, Jeff Reilly on bass clarinet, Dawn Hatfield on baritone sax, and Tim Keels on tuba and bass trombone.
There was potential for confusion in the sheer weight of tones and energies, and the number of improvisors (everybody), but Collier kept both musicians and audience in the loop, the groove anchoring the structures, and his many devices for changing direction and orchestration and gestures ensuring that no two performances would sound alike.